Abstract
Supporting the learning needs of students in online courses is commonly perceived as challenging for instructors, as the time and effort needed to master particular concepts may vary widely. Adaptive learning, an educational method which adapts presentation of material and assessment according to students' unique learning needs, is gaining popularity in online courses. In this session, we will provide an overview of adaptive learning approaches, describe real-life examples, consider the instructor's role in personalizing the experience, share available support and resources, and encourage a call to action for attendees. Specifically, an instructor's experience of integrating personalized adaptive elements into online courses using the Realizeit platform will be presented.
Debbie Hahs-Vaughn, PhD
Professor
Department of Educational and Human Sciences
College of Education and Human Performance
University of Central Florida
Debbie L. Hahs-Vaughn is a Professor in the Methodology, Measurement, & Analysis Program in the College of Education and Human Performance, and Assistant Vice Provost for Faculty Excellence at UCF. She teaches graduate courses in quantitative statistics, primarily in online and blended formats. Dr. Hahs-Vaughn has recently integrated adaptive learning elements to allow online students to more directly control and engage in their learning and, from an instructional vantage, to provide a richer learning environment.
Corrinne Stull, MA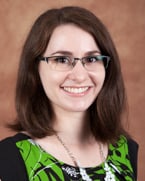 Instructional Designer
Center for Distributed Learning
University of Central Florida
Corrinne Stull established her career with the Center for Distributed Learning (CDL) in 2012, serving on the Techrangers team to help develop and maintain courses taught online at UCF. She joined the Instructional Design team at CDL in 2014, focusing on courses using adaptive learning software. Corrinne specializes in personalized adaptive learning and also works with accessibility and the use of OER materials.
Session Recordings and Supporting Materials
Streamed Podcast Session:
Presentation Materials
Presentation Resources
Scholarly Articles
RealizeIT Resources
UCF-Specific Resources
---
Join the Community
Want to connect with other faculty to share ideas on this topic? See the Teaching Online Community. If you would like to suggest a topic, or if you are interested in co-presenting a seminar, please contact Dr. Kelvin Thompson at kelvin@ucf.edu or 407.823.0462. or Dr. Aimee deNoyelles at aimee@ucf.edu or 407.823.1675.
Don't forget to subscribe (via iTunes, Android, or RSS) to never miss an session, or check out the Faculty Seminars in Online Teaching Session List for a comprehensive list of past sessions, video recordings, streamed podcast audio, and individual session resources and handouts.