Getting Started
To achieve instructional value in your online course, your first step is to consider the pedagogical, technical, and logistical variables involved in developing your message. Next consider the basics of message design principles and move forward from there.
Pedagogy
While you can't design multiple variations of each concept you are teaching, you can utilize a variety of media and message design principles to address various learning styles. Some basic pedagogical variables to keep in mind are:
Individual preferences and responses to your messages will differ depending on your learners' prior experiences and skills.
Your student's motivation to learn is greatly impacted by the way in which you present your instructional messages.
Content structure and layout guide your students through the learning process.
Technology
You will need to consider the technological possibilities and limitations when planning to incorporate media elements into your course. Begin by addressing the following technological issues:
What resources are available to assist in the creation of media elements for your course? Always take into consideration the people and tools available to help you complete the project. What resources are available commercially, through CDL, or through your department or college?
Are there more effective ways to achieve the same instructional goal? Video and graphics should be incorporated to achieve specific goals. Why use several paragraphs of text to describe something that can be more easily communicated by an image or picture. Similarly a video segment can capture motion or convey a complex process or concept that would be inadequately expressed in a narrative format. Ensure that video and audio are used appropriately.
Do all media elements pertain to the instructional message? Video, audio, photos, and graphics may utilize large file sizes and require extensive time for downloading. Don't make students wait for elements that are not essential to the information you are attempting to convey. Also, remember to provide links to any software or plug-ins required to play video or audio segments.
Does the final product have lasting instructional value? You want to be strategic in developing an instructional piece that can be used long term and in multiple instructional instances. Remember to always do some research to see if something is already available commercially. You do not want to reinvent the wheel.
Logistics
You'll want to keep in mind the creation of original content takes time and coordination of resources. The instructional value of a graphic, video, or multimedia component should be high enough to justify the time and effort expended. Working with your instructional designer and other teams at CDL entails a commitment from you. Begin by discussing your ideas with your instructional designer. Provide a written description and identify any examples, if possible. The role of the instructional designer is to serve as your liaison and coordinate projects that involve other teams at CDL.
Text Layout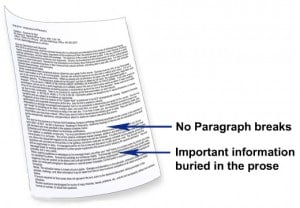 Materials presented online stand alone for the most part and do not have the benefit of an accompanying verbal explanation. Students may have a hard time comprehending the message if a great deal of information is presented that lacks organization and clarity. In turn, student motivation may be affected.
In the above instance, there are no paragraph breaks. The prose may be eloquent, but little or no attention has been given to helping important points stand out. The reader may have to read the document over and over to decipher the relative points.
Make sure you take the time to consider the effectiveness of the layout and how the students will perceive it. Following a basic plan to ensure readability and legibility is crucial. You should always:
Organizing your content in manageable clusters or chunks. You may want to use headings to identify each chunk of text.
Use sans serif fonts that are designed to be very legible on a computer screen (like Arial, not like Times New Roman).
Use Boldface, italics, different font attributes, or other formatting techniques to emphasize and highlight important information.
Use bulleted or numbered lists to aid "scanning" or "skimming" (especially on the Web). Example:

Step One
Step Two
Step Three

AVOID WRITING WHOLE SENTENCES IN CAPITALS, AS IT IS DIFFICULT TO READ. (In the online world, it means you are shouting.)
Avoid moving or blinking text if at all possible. Besides being distracting, it is very hard to read, especially if one has poor eyesight.
Remember that you don't need to cover an entire page with text and graphics. Use blank areas or "white space" to make the layout easier on the viewer's eyes.
Now that you have covered the basics, you are ready to define the Media Components of your course by incorporating graphics and using color.