Graphics and Color
Graphics can be used to illustrate, organize, explain, or decorate pages of online content. The use of images will not only make your pages visually appealing, they can serve as a valuable tool to clarify your content.
The use of color in your online pages is primarily determined by the skin you choose for your course. However, understanding how different colors work together in conveying a message is relevant for the visual learners in your course and for complying with accessibility requirements.
Select on the image below to view the color and graphics component of the Media and Message Design tutorial. Make sure speakers are on.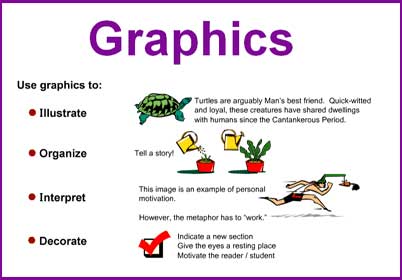 Multimedia Components
You may want to incorporate media components such as video segments, animations, games, or virtual worlds to provide dynamic or interactive functionality while conveying an instructional message. Additional expertise, tools, time, and programming are required to produce enhanced media elements and not every concept justifies the use of multimedia components.
To view some examples of these media components, click on the links below. Make sure you have the necessary software plug-in installed. A plug-in is a hardware or software that adds a specific feature or service to a larger system. The idea is that the new component simply plugs in to the existing system. For example, there are number of plug-ins for your browser that enable it to display different types of audio or video messages.
Certain types of media, graphics, photographs, audio, and video may present a barrier to individuals with impairments and to those with less sophisticated computer equipment. Make sure to provide alternatives such as alternate text descriptions, transcripts, and closed captioning to ensure accessibility.
See Accessibility for further information.
After consideration of all the related issues for media and message design, you will need to follow a Maintenance schedule.