What is Obojobo?
Obojobo is a learning object system designed, crafted, and maintained by The University of Central Florida. For more information, read About Obojobo. Obojobo is used across campus for many resources, including the Information Literacy Modules.

For Instructors – Create an Obojobo Assignment
The steps below will walk you through the processes of creating an Obojobo assignment in your Webcourses@UCF course. This assignment will be viewable directly in the course for students and scores will automatically be synced with your Gradebook.
NOTE: Once an Obojobo assignment is created, it can be copied over with course materials and does not need to be recreated each semester.
Create the Assignment
Click Assignments within the course navigation.
Create a new assignment.
Enter the desired number of points and other settings like Assignment Name and Due Date.

Scores from Obojobo range from 0%-100%, so a student who scores a perfect 100% will get the number of points you specify here. (For example: If a student scores a 50% for this widget and you specify 20 points for this assignment then they will receive 10/20 points).

Locate the drop down menu and select External Tool. Click inside the input box that appears.
A pop up will appear. Select Obojobo. This will open up a window to create an Obojobo instance.
Select a Learning Object
Now you select the Obojobo instance you'd like to use.
You can see that the Obojobo window contains two options. If you're new to Obojobo or would like to use an Obojobo object that has already been created by a subject matter expert team at UCF, select Community Library. If you want to use an object that you've built previously in Obojobo, select Personal Library.
Select an object from the list that you'd like to include as an assignment and click on the Create Instance button to go to theCreate Instance form.
On the Create Instance form you can specify a few options:

Instance Name will be the title of the instance.
Attempts will specify how many tries a student has to take the assessment for this instance. If you specify more than one attempt you will be able to determine how to calculate the final score that will be sent to your Webcourses Gradebook.
Allow Past Scores to be Imported will let students who have already taken this object in the past to import their previous highest score.

Click Create Instance.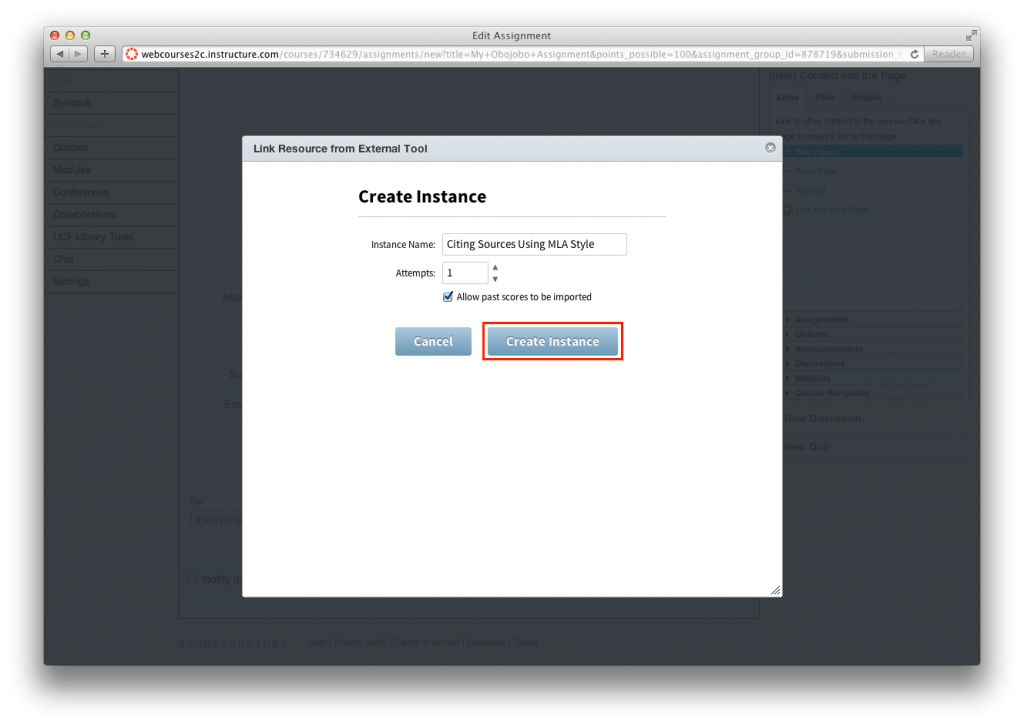 Complete the Assignment
You should now be redirected back to the External Tool window.
Click Select to close the External Tool window.
Click Update Assignment to complete this process.Since you are the owner of your Webcourses course you will see the Obojobo instance in preview mode. No interactions or scores are recorded in this mode. Your students' interactions and scores will be recorded, as you would expect.
Add an  Obojobo Assignment to a Module
Follow the steps above to create an Obojobo assignment, then add it as a study module by following the instructions below:
Add an Obojobo Assignment
Click the + button to add a module item.
Select the Obojobo assignment you created, and click the Add Item button.
Other Ungraded Options
Here are two other ways to include Obojobo in Webcourses@UCF. Note that using these methods won't automatically sync Obojobo scores to your gradebook!
You can add an external tool to a module without having to create an assignment. Create a new module, select External Tool, and follow the instructions as described in the first section.
You can also simply include an Obojobo link in your course.
Retrieving Hidden Obojobo Instances for Copied Courses
When a user visits an Obojobo instance in a Webcourses@UCF course that has been copied, Obojobo will duplicate the instance in an effort to keep the student data for that instance separate from the previous instance scores.
The previous ownership for the duplicated instance is not carried over for security reasons. This means the instance is in the Obojobo system but initially hidden from view. You can un-hide the instance. To do so, follow the instructions below:
Navigate to your Obojobo assignment in Webcourses@UCF. (This will let Obojobo know that you have access to this instance)
Go to http://obojobo.ucf.edu/repository. You should now see the instance visible in the Repository, however this visibility is temporary. Move on to the next step to permanently add this instance to your view.
Select the instance.
Click Managers.
Search for yourself in the User Listing.
Click Add.
Click Apply.