Knights Online: Using Webcourses@UCF
Feel free to browse any of the stand-alone tutorials listed below. If you are new to UCF you may want to consider viewing the Webcourses@UCF Student Tour. This tour will help you gain a basic understanding of how to navigate Webcourses@UCF. The tour will also provide you with some insight into basic features you may use in your online course here at UCF. You may view any of the tutorials listed below, however we recommend you view them in the order they appear. You may click the title of the tutorial or the image to the left of the tutorial to view it.
---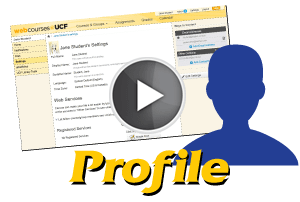 Configure Profile and Notification Settings
The global Settings menu allows you to manage your contact information. You can add email addresses and other contact methods, such as your cell phone number or SMS email. If you add secondary email addresses, make sure your Knights email remains your default email. You can also change the language and/or time zone settings from the Settings page.
Notifications allows you to change the frequency in which you receive notifications for the different types of activities in your course. In this tutorial, you will practice how to configure your profile settings and notification preferences.
---