Jessica Tojo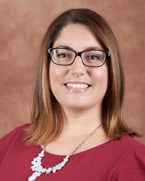 Jessica Tojo
Instructional Designer
Jessica.Tojo@ucf.edu
407.823.3019
Jessica is thrilled to be a member of the Instructional Design – Personalized Learning Team at the University of Central Florida's Center for Distributed Learning (CDL). She previously worked for CDL as a student assistant back when it was known as Course Development & Web Services.
Jessica earned a B.S. degree in Early Childhood Education from the University of Central Florida in 2007 and taught elementary school for Seminole County Public Schools (SCPS). Her interest to enhance learning through the integration of technology led her to pursue an M.A. in Educational Technology which she received from UCF in 2011.
During her eight years with SCPS, she taught grades 2-3, was an educational technology facilitator (ETF), and worked on the delivery side of a product called iReady, which is a type of personalized learning product. She is excited to move to the designer side of personalized learning to work with Realizeit, a personalized/adaptive learning product currently being used at UCF. As an ETF, she provided technology support to meet instructional and administrative needs, designed and delivered technology training for faculty and staff, and implemented a tablet pilot program for a second grade class.
Her research interests include personalized adaptive learning, the use of OER materials, and accessibility.